Notes from the Manager
Thanks very much to Tom Brazelton of Theater Hopper — one of my best buds in webcomics — for helping me out with a guest strip. Tom and I have been in the Boxcar Comics collective together (in fact, he brought me into the fold, I think) and, of course, the late, lamented Triple Feature podcast, and we still talk constantly on Twitter and via e-mail and all of that. He's an awesome guy; very, very funny; and you should check out his comic RIGHT NOW.
I've been in Seattle for Emerald City Comicon, which was seriously the best time I've ever had at a convention. I sold every book I brought by 4pm on Saturday (oops!), I met a ton of awesome readers, made a bunch of new readers (I think), and got to hang out with Dave Willis (Shortpacked!) and Joel Watson (HiJINKS Ensue) a bunch, which is always a lot of fun.
I'll post a couple of sketches I did at the show over at Deleted Scenes in the near future (and if I gave you one at the show, I'd love you forever if you took a photo or scanned it and sent it to me).
I'm still aiming for two updates of my own this week — on Wednesday and Friday, so I'll see you then.
cut/paste:
SHIRTS ON SALE! I have a clearance sale on all of the T-shirts in my store at the moment. Copyright shirts have sold out (thank you!!), but the Workplace Romance, Popcorn and Breakfast Club are all $4.99and even the über-popular Michael Bay is the Devil shirt is only $12.99.
There's a new T-shirt design up in the story — the Ozu's the Boss? T-shirt worn by Jason in Multiplex #555 is now available for PRE-ORDER at the bargain price of $14.99.
Order it NOW (especially if you want a Ladies size, or either a Men's Small or 2XL+) because otherwise they might not get made, or available in your size!
But wait! There's more!
Although Multiplex will be ending soon, thanks to readers like you on Patreon, the Multiplex 10 will stay open for business! I'll be posting bonus comics from future print collections, Multiplex Movie Review strips, updates on the upcoming Multiplex animated short, and, of course, other non-Multiplex stuff.
In addition to the warm, soothing feeling of being a patron of the fine art of comic strippery, Patrons get access to free Multiplex eBooks, sneak previews of upcoming comics and other behind the scenes peeks, sketch giveaways, and more!
You can also support Multiplex by shopping at the Multiplex store — or at Amazon via these affiliate links: United States | United Kingdom | Canada
Deleted Scenes Blog
Bonus comics, drawings,
movie trailers and more
Friday, February 17, 2017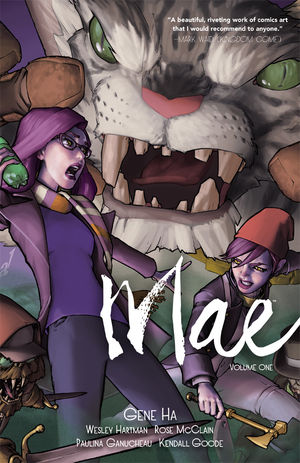 Heads up, completists. I have a three page story in the new Mae Volume One TPB from Dark Horse Comics. This is the same one I co-wrote (with Mae creator Gene Ha) and as a thank-you for backers of its original Kickstarter edition — and Dark Horse's editors decided to include the story in the back matter of this new collection, along with a bunch of other short stories by other great creators.
BUT… I have a story in a Dark Horse-published book! That's cool!
If you're not familiar with Mae, it's an all-ages adventure comic by Gene Ha (Top Ten and a billion other comics). Here's the official Dark Horse synopsis:
When she was just a girl, Abbie discovered a portal to a fantasy world and has since had great adventures there: defeating horrible monsters, power-mad scientists, and evil nobles. But when she turned twenty-one it all came apart and she decided to return home. Her sister, Mae, had no idea what happened to Abbie all this time, and Abbie's tales are too hard to believe—that is, until the monsters and other terrible creatures start to cross over to our world . . . Collects issues #1–#6.
I highly recommend it. It is a lot of fun. You can learn more about Mae Volume One on Amazon.
Other Recent Posts