Notes from the Manager
Thanks very much to Tom Brazelton of Theater Hopper — one of my best buds in webcomics — for helping me out with a guest strip. Tom and I have been in the Boxcar Comics collective together (in fact, he brought me into the fold, I think) and, of course, the late, lamented Triple Feature podcast, and we still talk constantly on Twitter and via e-mail and all of that. He's an awesome guy; very, very funny; and you should check out his comic RIGHT NOW.
I've been in Seattle for Emerald City Comicon, which was seriously the best time I've ever had at a convention. I sold every book I brought by 4pm on Saturday (oops!), I met a ton of awesome readers, made a bunch of new readers (I think), and got to hang out with Dave Willis (Shortpacked!) and Joel Watson (HiJINKS Ensue) a bunch, which is always a lot of fun.
I'll post a couple of sketches I did at the show over at Deleted Scenes in the near future (and if I gave you one at the show, I'd love you forever if you took a photo or scanned it and sent it to me).
I'm still aiming for two updates of my own this week — on Wednesday and Friday, so I'll see you then.
cut/paste:
SHIRTS ON SALE! I have a clearance sale on all of the T-shirts in my store at the moment. Copyright shirts have sold out (thank you!!), but the Workplace Romance, Popcorn and Breakfast Club are all $4.99and even the über-popular Michael Bay is the Devil shirt is only $12.99.
There's a new T-shirt design up in the story — the Ozu's the Boss? T-shirt worn by Jason in Multiplex #555 is now available for PRE-ORDER at the bargain price of $14.99.
Order it NOW (especially if you want a Ladies size, or either a Men's Small or 2XL+) because otherwise they might not get made, or available in your size!
SUPPORT GORDON McALPIN ON PATREON!
Although Multiplex has ended, thanks to readers like you on Patreon, the Multiplex 10 will stay open for business! I'll be posting bonus comics from future print collections, Multiplex Movie Review strips, updates on the upcoming Multiplex 10 animated short, and, of course, other non-Multiplex stuff.
In addition to the warm, soothing feeling of being a patron of the arts, Patreon supporters get access to free Multiplex eBooks, sneak previews of upcoming comics and other behind the scenes peeks, sketch giveaways, and more!
Multiplex News & Updates
Bonus comics, drawings, and
other awesome stuff
Saturday, April 29, 2017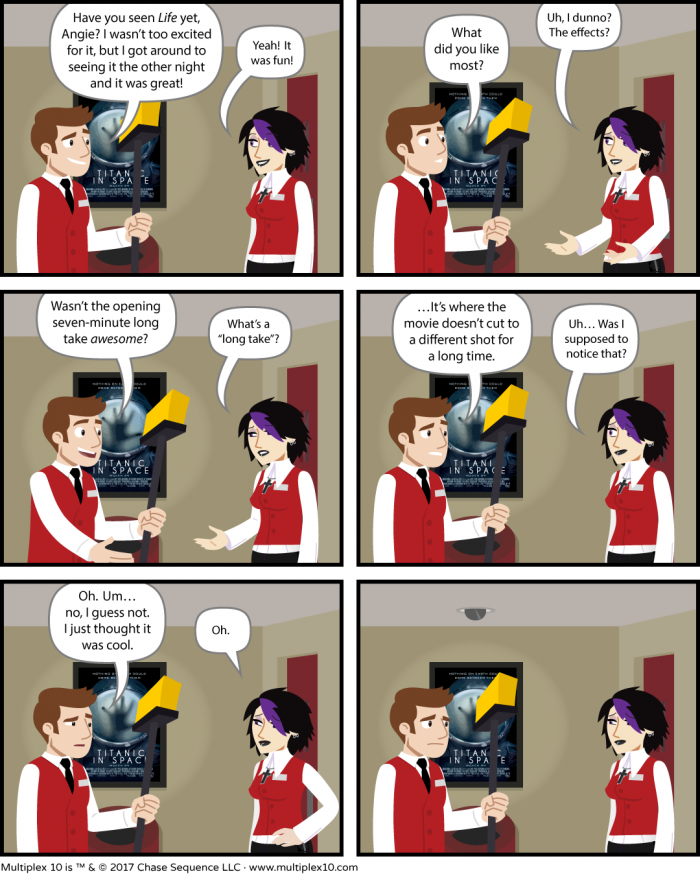 Angie, like Franklin, is another significant character from Multiplex who only gets a brief cameo in the pilot episode. So here she is in a Multiplex 10 comic strip.
At nearly $13,250 (as I write this), we're allllllmost at 90% funding with EIGHT DAYS to go. We need your support to make this pilot happen — and to help distribute it so that we can make more than just one episode! Check out the Multiplex 10 Kickstarter project page today! (Please.)
Also, in case you missed it, there were a couple of new… uh, I'm not sure how to refer to them. "Promo comics," I guess? The Multiplex 10 versions of Melissa & Becky and Franklin introduce themselves and talk about the animated short and one of the Kickstarter milestones, like the Kurt & Jason one I posted here a while ago. I posted those around the social medias and the separate, Multiplex 10-specific site, which some of you may not know about.
Other Recent Posts