Notes from the Manager
So I'm doing a few guest strips between Book 6 and 7, it looks like. Possibly to be followed by a short, self-contained storyline that doesn't have anything to do with anything (and maybe not even Multiplex-related). It's all in the interest of giving me time to map out the start of Book 7 a little more clearly.
This guest comic was written and drawn by some guy named Gordon McAlpin…? I guess he used to do a comic called Stripped Books a long time ago. Anyway, this was colored by the inimitable Joe Dunn of Joe Loves Crappy Movies and Another Video Game Webcomic, too, so thanks, Joe! And thanks again to Jaydot Sloane of Vanity Games for Wednesday's guest comic.
See you on Monday with more comics of some kind!
Multiplex News & Updates
Bonus comics, drawings, and
other awesome stuff
Thursday, June 15, 2017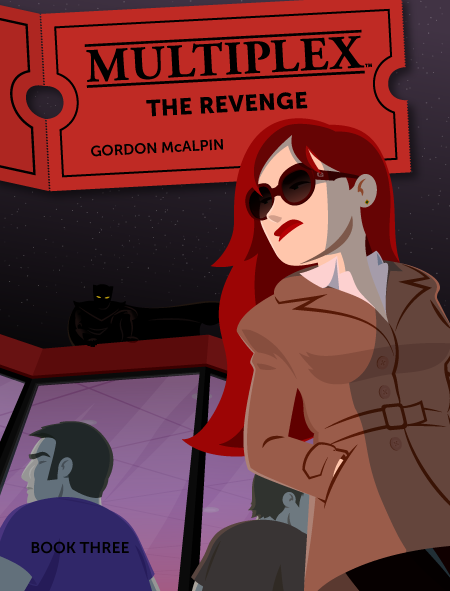 Multiplex: The Revenge (Book Three) is now available in the Multiplex Store! (Only regular/unsigned editions are available at this time; I'll add artist's editions once all of the Kickstarter rewards have been fulfilled.)
Multiplex: The Revenge collects chapters 11–15 of the series (strips #217–338, which ran from March 2008 to March 2009), plus over 30 bonus comics — including an all-new stories sets on opening night of The Dark Knight and Zack Snyder's Watchmen! If you miss Multiplex and would like to see more with these characters, the book collections are for you.
Head on over to the Multiplex Store and check it out today!
Other Recent Posts