Notes from the Manager
Related Strips: #840: One Man's Trash Is Another Man's Treasure
In the off chance that someone doesn't understand the Avengers thing:
Brad Bird directed both The Iron Giant and the upcoming Tomorrowland (as well as The Incredibles, Ratatouille and Mission: Impossible – Ghost Protocol).
You can figure it yourself for the ones in the last panel, or head over to the Multiplex Facebook page to chat amongst yourself. I've been pleasantly surprised that the Facebook page has been pretty active lately; those of you who miss the comments (and don't hate Facebook so much that you refuse to use it) can head over there!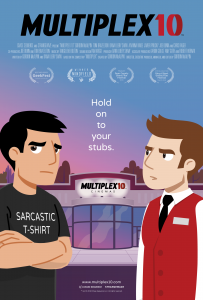 Multiplex 10 is here!
Although Multiplex 10 has ended, an animated prequel/reboot called Multiplex 10 was funded through Kickstarter in 2017 and is NOW AVAILABLE for rent or purchase on Vimeo On Demand, Amazon Video, and elsewhere! And an all-new, irregularly-updated Multiplex 10 web series (set after the short film) recently launched on YouTube! Learn more about the web series on the official Multiplex 10 website!
Stay up to date on all things Multiplex, Multiplex 10 and me (a.k.a. Gordon McAlpin) by subscribing to my newsletter!