Notes from the Manager
Related Strips: #372: Public Enemy Number One
The semester starts tomorrow, so the Friday strip will be posted super late on Fridays again (although I guess it has been that way off and on throughout the summer already— this wasn't much of a summer break for me, and I didn't get nearly as much work done on Multiplex Stuff™ as I wanted because of my two assistantships). Anyway.
Incidentally, some of you have noticed that the comments have disappeared in the last few weeks. This wasn't in response to any particularly egregious posts or anything — more just a long, slow build-up in me of distaste for having to moderate them lest they devolve into the cesspool that comments sections are on far too many websites. As much as I love interacting with you guys, I would rather devote more time to working on the strip than moderating the site's comments, you know?
If you have questions about a strip, want to tell me about a typo, or just want to say hi, I'm always on Twitter and am happy to hear from you.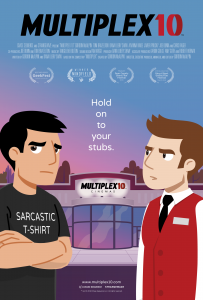 Multiplex 10 is here!
Although Multiplex 10 has ended, an animated prequel/reboot called Multiplex 10 was funded through Kickstarter in 2017 and is NOW AVAILABLE for rent or purchase on Vimeo On Demand, Amazon Video, and elsewhere! And an all-new, irregularly-updated Multiplex 10 web series (set after the short film) recently launched on YouTube! Learn more about the web series on the official Multiplex 10 website!
Stay up to date on all things Multiplex, Multiplex 10 and me (a.k.a. Gordon McAlpin) by subscribing to my newsletter!