Notes from the Manager
I'm finally done for the semester, so I'll be trying to get caught up this next week. Can't promise anything this week, because I'll be traveling a bit, but I want to try for three strips… (Yeah, this week isn't going to happen.) Thanks for your patience!
Those of you who did see Godzilla, what are your (non-spoilery) thoughts? I really enjoyed it, despite some dumb script bits. I did wish Godzilla were in it more, but when he was in it, he was fantastic. For a first movie, his relative lack of screen time mostly works. (They announced yesterday that a sequel was in development, on account of it making around $200 million worldwide already.) And if director Gareth Edwards sticks with his idea for involving Monster Island in it, all the better.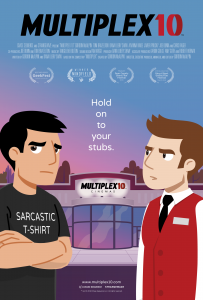 Multiplex 10 is here!
Although Multiplex 10 has ended, an animated prequel/reboot called Multiplex 10 was funded through Kickstarter in 2017 and is NOW AVAILABLE for rent or purchase on Vimeo On Demand, Amazon Video, and elsewhere! And an all-new, irregularly-updated Multiplex 10 web series (set after the short film) recently launched on YouTube! Learn more about the web series on the official Multiplex 10 website!
Stay up to date on all things Multiplex, Multiplex 10 and me (a.k.a. Gordon McAlpin) by subscribing to my newsletter!