Notes from the Manager
Related Strips: #910: How to Make an Entrance
Sorry I'm late! I have a huge paper to crank out and a short video project to finish up, so Monday's will almost certainly be a few days late. I will catch up with the number of updates in due time, though.
(And yes, I backdated this strip, because I'm a cheating no good, lying so-and-so. Also, my OCD overrules my penchant for honesty in this regard.)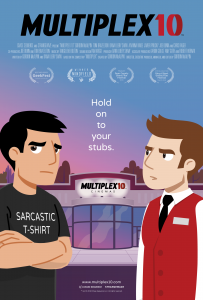 Multiplex 10 is here!
Although Multiplex 10 has ended, an animated prequel/reboot called Multiplex 10 was funded through Kickstarter in 2017 and is NOW AVAILABLE for rent or purchase on Vimeo On Demand, Amazon Video, and elsewhere! And an all-new, irregularly-updated Multiplex 10 web series (set after the short film) recently launched on YouTube! Learn more about the web series on the official Multiplex 10 website!
Stay up to date on all things Multiplex, Multiplex 10 and me (a.k.a. Gordon McAlpin) by subscribing to my newsletter!