Notes from the Manager
Related Strips: #684: You Do It to Yourself; #782: Bearer of Bad News
Yay, 900 strips! As my usual spiel goes, since I've made dozens and dozens of bonus comics — for the collections, the Prequel story for Book One, the Movie Review comics for the Book Two Kickstarter and Patreon, etc. — I never really pay much mind to round-number milestones. But 900 is still kind of cool to see.
Thanks for reading all this time, and thank you for helping me continue to make Multiplex! I'm especially pleased with the recent move away from ads, and even if you didn't mind the ads too much, I think you'll be pleased with some of the things that removing the site's dependency on them allows me to do in the coming months.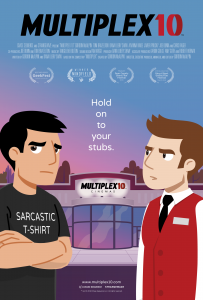 Multiplex 10 is here!
Although Multiplex 10 has ended, an animated prequel/reboot called Multiplex 10 was funded through Kickstarter in 2017 and is NOW AVAILABLE for rent or purchase on Vimeo On Demand, Amazon Video, and elsewhere! And an all-new, irregularly-updated Multiplex 10 web series (set after the short film) recently launched on YouTube! Learn more about the web series on the official Multiplex 10 website!
Stay up to date on all things Multiplex, Multiplex 10 and me (a.k.a. Gordon McAlpin) by subscribing to my newsletter!