#90: Idio(cra)cy
September 3, 2006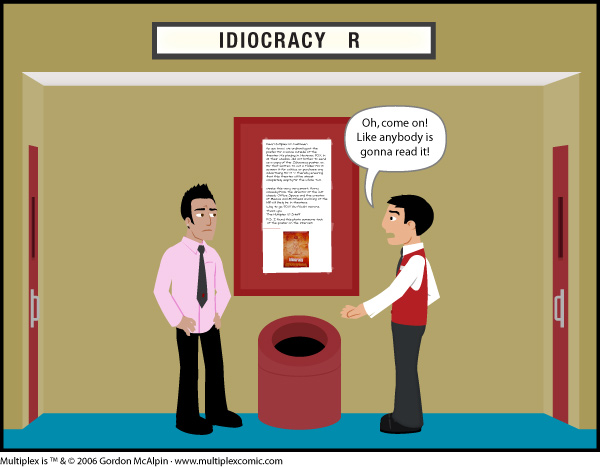 Notes from the Manager
Another single-panel this time, because I need a Labor Day weekend, just like you guys. I'll make up for it later this week, promise. I just didn't have time to finish the longer update I'd started.
Jason's "poster" and Quint's "Open Letter to FOX" at Ain't It Cool News pretty much sum up my opinion of how FOX has handled the release of this film. Even if FOX honestly thought the movie sucked and/or would deeply offend all the morons in the US (62,040,610 of them, last time our country counted), when was the last time that stopped a Hollywood studio from promoting a movie?! Practically everybody I know has seen Office Space five or six times — of course some of them would check out Idiocracy… if they knew it existed!
UPDATE (from the future): A trailer made its way to the internet (long, long after the film hit video), and I thought I'd include it for people who aren't familiar with the film:
Become a Multiplex patron
Multiplex is supported by Andrew Hathaway at Can't Stop the Movies and readers like you via PATREON. Help keep the Multiplex 10 open for business by becoming a patron today!
Patron rewards include:
Free eBooks!
Multiplex Movie Reviews and other bonus comics
Character doodles!
Invites to Google Hangouts!
Sneak peeks at early and in-progress strips and artwork!
and MORE!
Deleted Scenes Blog
Bonus comics, drawings,
movie trailers and more
Wednesday, September 3, 2014
I just purchased a new shipping module for The Multiplex Store that gives me more flexibility in setting shipping and handling costs, so US customers will see much better rates on all (physical) items in the Multiplex Store. If any of you guys in the US balked at the shipping costs before, be sure to check them out now.
Books are $5 for the first one then $1.50 per additional book (rather than $5 per book), saving you $3.50 if you order two books. T-shirts are now $4 for the first shirt (any size) and $1.50 per additional shirt. And sketches and other artwork are also $4 for the first item, then $1 per additional item.
Rates for international customers are unchanged; I still use USPS First Class International's rates as they are quoted by the USPS without any additional markup.
Now is as good as any to pick up that copy of Multiplex: There and Back Again!
Other Recent Posts