Notes from the Manager
Related Strips: #883: I Have Seen the Future
The manager of the Naperville 14 is James Szajda (like it says in the strip). He's one of the Kickstarter backers for Multiplex: There and Back Again, and he pledged enough to get a small role in the comic.
Book Two will be available for pre-order… soon! I've explained elsewhere, but the books are in-hand now, but school is getting in the way of packaging everything up — particularly doing the hundred-some sketches and such — and I want to make sure the Kickstarter backers have their books on the way before I start taking more orders. I'm guessing that pre-orders will launch later this month (but possible March), with its on-sale date of about a month later. Patience, please!
700+ page reading loads in two weeks are a little tough for me, but things should ease up… soon? Maybe?
Anyway. Szajda will return at least a few more times, though not right away.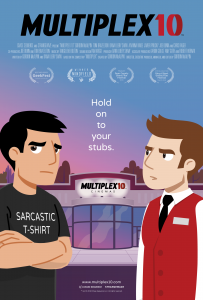 Multiplex 10 is here!
Although Multiplex 10 has ended, an animated prequel/reboot called Multiplex 10 was funded through Kickstarter in 2017 and is NOW AVAILABLE for rent or purchase on Vimeo On Demand, Amazon Video, and elsewhere! And an all-new, irregularly-updated Multiplex 10 web series (set after the short film) recently launched on YouTube! Learn more about the web series on the official Multiplex 10 website!
Stay up to date on all things Multiplex, Multiplex 10 and me (a.k.a. Gordon McAlpin) by subscribing to my newsletter!