Notes from the Manager
Related Strips: #869: Break and Run
Wooo!!! Finally done with grad school for the semester, so I'll be sharing Kickstarter reward stuff starting next week (including bonus comics!). Hopefully I can crank through a lot of that really quickly. (I still have grad school-related things to do — but the class I'm taking are all finished off.)
But because of that other stuff, I'll probably stick with the Monday/Friday updates. Hopefully the Friday ones for the next month will just be… significantly earlier in the day.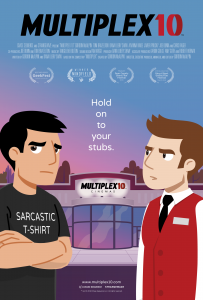 Multiplex 10 is here!
Although Multiplex 10 has ended, an animated prequel/reboot called Multiplex 10 was funded through Kickstarter in 2017 and is NOW AVAILABLE for rent or purchase on Vimeo On Demand, Amazon Video, and elsewhere! And an all-new, irregularly-updated Multiplex 10 web series (set after the short film) recently launched on YouTube! Learn more about the web series on the official Multiplex 10 website!
Stay up to date on all things Multiplex, Multiplex 10 and me (a.k.a. Gordon McAlpin) by subscribing to my newsletter!