Notes from the Manager
I don't plan to actually show this promo for a few reasons, but you get the idea from the set-up here.
What would be on your Top Five Movies Filmed and Set in Chicago? (Meaning no Dark Knight. And no, the "Gotham City is basically Chicago" argument does not fly with me.)
Mine would be:
5) Ferris Bueller's Day Off
4) Hoop Dreams
3) The Untouchables
2) Call Northside 777
1) High Fidelity… duh
(Kurt's list would be a little different — it'd probably have Adventures in Babysitting and The Fugitive on it in place of Northside and Hoop Dreams.)
The title of this strip comes from the Kinks song of the same name, which was used in the movie: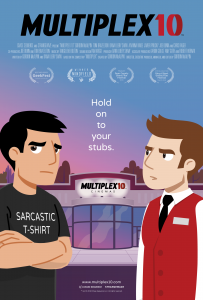 Multiplex 10 is here!
Although Multiplex 10 has ended, an animated prequel/reboot called Multiplex 10 was funded through Kickstarter in 2017 and is NOW AVAILABLE for rent or purchase on Vimeo On Demand, Amazon Video, and elsewhere! And an all-new, irregularly-updated Multiplex 10 web series (set after the short film) recently launched on YouTube! Learn more about the web series on the official Multiplex 10 website!
Stay up to date on all things Multiplex, Multiplex 10 and me (a.k.a. Gordon McAlpin) by subscribing to my newsletter!