Notes from the Manager
Related Strips: #608: Sorted Out; #805: They Don't Make 'Em Like They Used to; #806: I've Never Seen Its Equal
Ooookay, so one year of grad school down, two or two and a half to go!
I'm going to try to get back to a Monday/Thursday schedule for the summer — but don't quote me on that yet.
I also have to get Book Two off to the printer as soon as possible, continue developing the Multiplex iOS app, work on Multiplex: The Card Game a little, and maybe even get started on Book Three. Plus some other stuff. So… busy summer.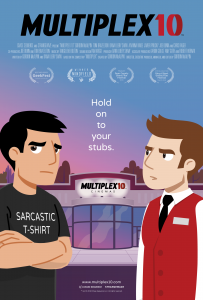 Multiplex 10 is here!
Although Multiplex 10 has ended, an animated prequel/reboot called Multiplex 10 was funded through Kickstarter in 2017 and is NOW AVAILABLE for rent or purchase on Vimeo On Demand, Amazon Video, and elsewhere! And an all-new, irregularly-updated Multiplex 10 web series (set after the short film) recently launched on YouTube! Learn more about the web series on the official Multiplex 10 website!
Stay up to date on all things Multiplex, Multiplex 10 and me (a.k.a. Gordon McAlpin) by subscribing to my newsletter!