Notes from the Manager
Related Strips: #796: Strange Bedfellows
Some of your comments on Monday's strip were extra amusing to me in light of this strip.
Anyway. It occurred to me as I was scripting this strip that it really gets at one of the central themes in this phase of Multiplex: the movie industry and movie theater industry's rapidly changing states at this time. It seems like the industry has changed more in the last seven years than in the thirty before it, because of home video, because of digital downloads and streaming, and any number of other factors.
Hopefully I'm not just indulging myself by focusing on these topics for the next… while… but it seems natural to me that the characters would have to deal with them.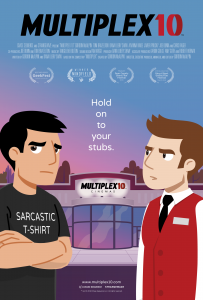 Multiplex 10 is here!
Although Multiplex 10 has ended, an animated prequel/reboot called Multiplex 10 was funded through Kickstarter in 2017 and is NOW AVAILABLE for rent or purchase on Vimeo On Demand, Amazon Video, and elsewhere! And an all-new, irregularly-updated Multiplex 10 web series (set after the short film) recently launched on YouTube! Learn more about the web series on the official Multiplex 10 website!
Stay up to date on all things Multiplex, Multiplex 10 and me (a.k.a. Gordon McAlpin) by subscribing to my newsletter!