Notes from the Manager
False equivalence or irony? You make the call!
As someone who doesn't watch broadcast or cable TV, I don't see a lot of commercials, and so I find it really weird that on Super Bowl Sunday, people get all into… the ads. Fucking ads. The whole reason that I don't watch TV in the first place! (I watch stuff on Hulu or iTunes or whatever — so I watch several TV shows, just not "TV.")
But then people, including myself here, complain about them in front of movies. Maybe they just need to rotate them a little more often at movie theaters… Frequent movie-goers like myself want to start murdering people after the nine millionth "Wanta Fanta."
Anyway. The Pep! ad in the last panel is an obvious nod to this Coke commercial: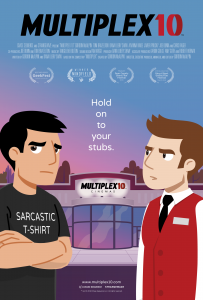 Multiplex 10 is here!
Although Multiplex 10 has ended, an animated prequel/reboot called Multiplex 10 was funded through Kickstarter in 2017 and is NOW AVAILABLE for rent or purchase on Vimeo On Demand, Amazon Video, and elsewhere! And an all-new, irregularly-updated Multiplex 10 web series (set after the short film) recently launched on YouTube! Learn more about the web series on the official Multiplex 10 website!
Stay up to date on all things Multiplex, Multiplex 10 and me (a.k.a. Gordon McAlpin) by subscribing to my newsletter!