Notes from the Manager
Thank you, NPR. I woke up this morning and the first story I heard gave me the idea for this strip—no fishing around for an idea this time! It was prompted by some artist (whose name I can't recall) saying something about how state-sponsored art was not a good thing… which Jason obviously disagrees with, although not without reservations.
UPDATE (6/19): You learn something new every day. A name-drop by a reader (Steerpike by name) over in the forums lead me to this page, which informed me that the US government did produce some films under the New Deal—although not under the Works Progress Administration. The Resettlement Administration apparently produced Films of Merit, a series of documentaries, overseen by Pare Lorentz. I'll have to see if I can find any of them.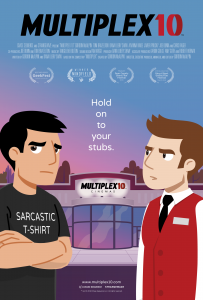 Multiplex 10 is here!
Although Multiplex 10 has ended, an animated prequel/reboot called Multiplex 10 was funded through Kickstarter in 2017 and is NOW AVAILABLE for rent or purchase on Vimeo On Demand, Amazon Video, and elsewhere! And an all-new, irregularly-updated Multiplex 10 web series (set after the short film) recently launched on YouTube! Learn more about the web series on the official Multiplex 10 website!
Stay up to date on all things Multiplex, Multiplex 10 and me (a.k.a. Gordon McAlpin) by subscribing to my newsletter!