Notes from the Manager
Related Strips: #584: Who Can It Be Now?
Thanks to everyone who came out to visit me at Penguicon (and to everyone who came out to Penguicon and let me sucker them into buying a book, too). I had a great time, even though I mostly hid in my hotel room at night while all the poly sci-fi kids got there grooves on, working on this masochistically long, talky strip… and playing Civ 5 or Portal 2. (All work and no play makes Gordon a dull boy…)
Duncan and Angie are back! And Duncan actually talks a little more this time! (He's a quiet guy.) And Angie has a new haircut!
I hope you all had a great weekend. I'm going to sleep forever now.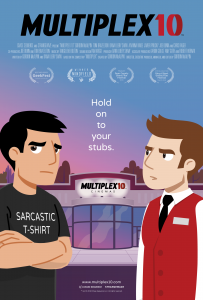 Multiplex 10 is here!
Although Multiplex 10 has ended, an animated prequel/reboot called Multiplex 10 was funded through Kickstarter in 2017 and is NOW AVAILABLE for rent or purchase on Vimeo On Demand, Amazon Video, and elsewhere! And an all-new, irregularly-updated Multiplex 10 web series (set after the short film) recently launched on YouTube! Learn more about the web series on the official Multiplex 10 website!
Stay up to date on all things Multiplex, Multiplex 10 and me (a.k.a. Gordon McAlpin) by subscribing to my newsletter!