Notes from the Manager
David Gordon Green made All the Real Girls (which I absolutely love) and George Washington (which I'm not all the crazy about, actually, but was well directed) — and he also made Pineapple Express and now Your Highness, which are a bit… less highbrow, to say the least. He also directed some episodes of the Danny McBride HBO series Eastbound & Down.
The bit about Green wanting to remake Suspiria is true, as well, of course, although the last I've heard of it was last year.
Check out the trailer for All the Real Girls over at YouTube, and watch Your Highness's red band trailer below:
Head over to Coming Soon for the other trailers and TV spots for Your Highness, and let me know what you think! Is there a more varied director working in film today?
UPDATE: I did a guest strip for the lovely and talented Joel Watson's HijiNKS ENSUE. Joel is a true mensch — one of the coolest people I've met in all my webcomic-related travails (we shared a table at C2E2 last year, don'tchaknow?), and his comic is frakking hilarious. You should definitely check it out — and that goes double if you're a sci-fi nerd.
UPDATE 2: Thursday's strip is running late, sorry! It will post sometime during the day on Thursday.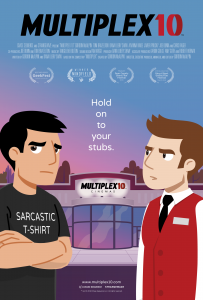 Multiplex 10 is here!
Although Multiplex 10 has ended, an animated prequel/reboot called Multiplex 10 was funded through Kickstarter in 2017 and is NOW AVAILABLE for rent or purchase on Vimeo On Demand, Amazon Video, and elsewhere! And an all-new, irregularly-updated Multiplex 10 web series (set after the short film) recently launched on YouTube! Learn more about the web series on the official Multiplex 10 website!
Stay up to date on all things Multiplex, Multiplex 10 and me (a.k.a. Gordon McAlpin) by subscribing to my newsletter!