Notes from the Manager
Related Strips: #554: The Disillusionist; #555: The Third Miracle, Part One
Stay warm, kids!
I'll save a couple of you the trouble of looking it up: The Best Animated Feature nominees in last year's Academy Awards were Up, Coraline, Fantastic Mr. Fox, The Princess and the Frog, and The Secret of Kells. (I wouldn't go so far as to say any of the films other than Up were "bullshit," although I didn't think Coraline, Fantastic Mr. Fox, or Secret of Kells had particularly strong scripts. I haven't seen Princess and the Frog.
Quiz question: Do any of you guys use the Multiplex iPhone app? (You know it exists, right?) Do you have any feature requests? (We're planning to add bookmarking/tagging, and are open to other suggestions.)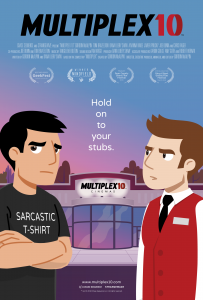 Multiplex 10 is here!
Although Multiplex 10 has ended, an animated prequel/reboot called Multiplex 10 was funded through Kickstarter in 2017 and is NOW AVAILABLE for rent or purchase on Vimeo On Demand, Amazon Video, and elsewhere! And an all-new, irregularly-updated Multiplex 10 web series (set after the short film) recently launched on YouTube! Learn more about the web series on the official Multiplex 10 website!
Stay up to date on all things Multiplex, Multiplex 10 and me (a.k.a. Gordon McAlpin) by subscribing to my newsletter!