Notes from the Manager
When I first saw the trailer for the Johnny Depp/Angelina Jolie "thriller" The Tourist, I thought it just looked like Salt 2: which is to say, a totally mediocre action flick that exists solely to be replayed on basic cable until for the next few years. (I recently posted a hand-drawn strip that mentioned Salt over at Deleted Scenes.)
I was stunned to learn that Florian Henckel von Donnersmarck, the director of The Lives of Others, had directed the film. Even though it's easily one of my favorite movies of the past ten years, I still can't bring myself to watch the movie — especially after reading so many dismal reviews about it while researching this strip.
There are, of course, foreign directors who have managed to do pretty well. While Ang Lee's Hulk is easily one of his worst movies (although it has its defenders), he's also made Brokeback Mountain and Sense & Sensibility through the Hollywood system. Alfonso Cuarón has done rather well for himself, as well. But it's sort of like the equivalent of a small, indie band signing onto a major label. Nine times out of ten, all the personality and charm of their indie material is going to get polished out of it in the course of molding their music into three minute pop songs.
(P.S. Gavid Hood made Rendition here before Wolverine: Origins. It had middling reviews and bombed at the box office, so even though it supports Jason's argument, it was just easier to skip over it in the strip. There's only so much I can squoosh into a single sentence!)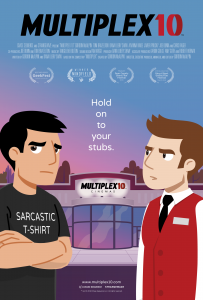 Multiplex 10 is here!
Although Multiplex 10 has ended, an animated prequel/reboot called Multiplex 10 was funded through Kickstarter in 2017 and is NOW AVAILABLE for rent or purchase on Vimeo On Demand, Amazon Video, and elsewhere! And an all-new, irregularly-updated Multiplex 10 web series (set after the short film) recently launched on YouTube! Learn more about the web series on the official Multiplex 10 website!
Stay up to date on all things Multiplex, Multiplex 10 and me (a.k.a. Gordon McAlpin) by subscribing to my newsletter!