Notes from the Manager
Okay, so this is another more or less ranty strip, not so much a funny ha-ha one, but I hope you enjoy it all the same. As some of you know, I used to do weekly movie reviews for Gapers Block, a terrific Chicago-based group blog that also sports some great features, and sometimes I miss the film-theory soap box that sort of forum grants you. Besides, doing dick and fart jokes every week would get boring, don't you think?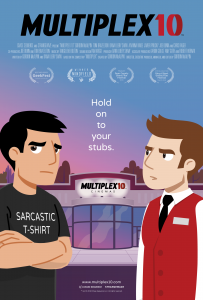 Multiplex 10 is here!
Although Multiplex 10 has ended, an animated prequel/reboot called Multiplex 10 was funded through Kickstarter in 2017 and is NOW AVAILABLE for rent or purchase on Vimeo On Demand, Amazon Video, and elsewhere! And an all-new, irregularly-updated Multiplex 10 web series (set after the short film) recently launched on YouTube! Learn more about the web series on the official Multiplex 10 website!
Stay up to date on all things Multiplex, Multiplex 10 and me (a.k.a. Gordon McAlpin) by subscribing to my newsletter!