Notes from the Manager
The new girls will be known as Tease and Jailbait. (Their real names are Letizia and Jillian. Jillian is the one with pink hair whom Melissa calls "Erin Esurance.")
As titles go, this one's kiiinda boring, but it's also a Phoenix song! Phoenix is awesome.
Thursday, I'll probably have something Social Network-related. It's a terrific flick, despite some obvious "exaggerated/added for dramatic purposes," and probably a few not-so-obvious ones, as well.
If you haven't had a chance to see it. If you have had a chance to see it, what'd you think?
If you're going to New York Comic Con, don't forget I will be at Booth 2487, sharing a table with Liz Bailie of Freewheel! Stop by and say hi!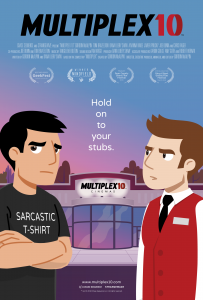 Multiplex 10 is here!
Although Multiplex 10 has ended, an animated prequel/reboot called Multiplex 10 was funded through Kickstarter in 2017 and is NOW AVAILABLE for rent or purchase on Vimeo On Demand, Amazon Video, and elsewhere! And an all-new, irregularly-updated Multiplex 10 web series (set after the short film) recently launched on YouTube! Learn more about the web series on the official Multiplex 10 website!
Stay up to date on all things Multiplex, Multiplex 10 and me (a.k.a. Gordon McAlpin) by subscribing to my newsletter!