Notes from the Manager
Related Strips: #485: The Floater, Part One
For those of you who aren't Kickstarter backers (and don't follow me on Twitter or Facebook or wherever), there are two bits of news about the Book 1 collection that I can share with yaz:
1. Multiplex: Book 1 now has the official (sub-)title of "Enjoy Your Show." Or, really, Multiplex: Enjoy Your Show. It was one of the first titles I came up with, and while I was trying to come up with something else (because of a little-known and now out of print novel by the same name that I've never read), I just kept coming back to it. So: Enjoy Your Show, it is.
2. The Prequel story is now complete, so there are TWO final things left to do. Namely, proofing the book before I send it to the printer and the cover illustration, which… is gonna take some designing, but will at least be fun. Unlike the proofing.
I expect it'll take a few days to design and draw the cover illustration, and I'd like at least a full week of proofing and re-proofing and re-re-proofing, because once I send it to the printer, it'll be a lot harder (and potentially very expensive) to fix anything.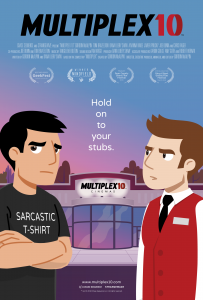 Multiplex 10 is here!
Although Multiplex 10 has ended, an animated prequel/reboot called Multiplex 10 was funded through Kickstarter in 2017 and is NOW AVAILABLE for rent or purchase on Vimeo On Demand, Amazon Video, and elsewhere! And an all-new, irregularly-updated Multiplex 10 web series (set after the short film) recently launched on YouTube! Learn more about the web series on the official Multiplex 10 website!
Stay up to date on all things Multiplex, Multiplex 10 and me (a.k.a. Gordon McAlpin) by subscribing to my newsletter!