Notes from the Manager
For the non-Hindus, the Pancha Ganapati is a five-day festival in honor of Ganesha, the patron of the arts and sciences, the Lord of Beginnings and the Lord of Obstacles. He is revered (and worshipped) not only by Hindus, but also Buddhists, Jains, and other religions. It was created about twenty years ago by American Hindus and is celebrated from December 21st through December 25th — so it sort of borrows a Christian tradition of putting holidays on top of other holidays so that its followers don't feel left out. (Like Christmas and the pagan mid-winter feasts.)
Along those lines, Sita Sings the Blues is a terrific 2008 animated film by cartoonist Nina Paley. It is, as Jason describes, a slightly irreverent animated version of the Ramayana with 1920's jazz songs (all sung by Annette Hanshaw). It's also quite a lovely film, and since it's available for download for free (even in high definition), I urge you all to check it out.
Here's its trailer: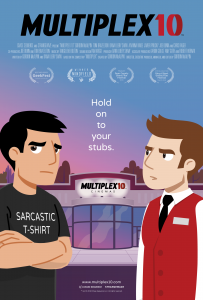 Multiplex 10 is here!
Although Multiplex 10 has ended, an animated prequel/reboot called Multiplex 10 was funded through Kickstarter in 2017 and is NOW AVAILABLE for rent or purchase on Vimeo On Demand, Amazon Video, and elsewhere! And an all-new, irregularly-updated Multiplex 10 web series (set after the short film) recently launched on YouTube! Learn more about the web series on the official Multiplex 10 website!
Stay up to date on all things Multiplex, Multiplex 10 and me (a.k.a. Gordon McAlpin) by subscribing to my newsletter!