Notes from the Manager
The remake's trailer can be found at Yahoo! Movies. The original trailer is online over at Apple. You'll notice that they hit the same major story points in the same order, even — although there are a few minor differences.
I don't think there's anything wrong with making a "black people version" of Death at a Funeral; I just think it's sort of odd that Hollywood would spend however many tens of millions of dollars to remake a movie that they could have just marketed better and distributed wider in its original release. Especially if they apparently weren't going to change all that much. (The original only cost $9 million to make!)
It's also really strange that Neil LaBute directed the remake.
But… All that said, it's still pretty funny, and it's a really strong cast. A lot of people dismiss remakes out of hand, which I think is a bit too absolute. Some remakes are better than the original (well, The Departed is), and plays are produced numerous of times; so why not films?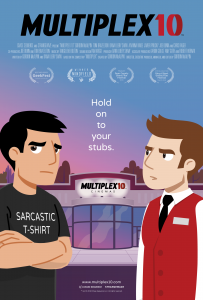 Multiplex 10 is here!
Although Multiplex 10 has ended, an animated prequel/reboot called Multiplex 10 was funded through Kickstarter in 2017 and is NOW AVAILABLE for rent or purchase on Vimeo On Demand, Amazon Video, and elsewhere! And an all-new, irregularly-updated Multiplex 10 web series (set after the short film) recently launched on YouTube! Learn more about the web series on the official Multiplex 10 website!
Stay up to date on all things Multiplex, Multiplex 10 and me (a.k.a. Gordon McAlpin) by subscribing to my newsletter!