Notes from the Manager
Related Strips: #121: Happy Valentine's Day
Thank you again to Greg Erskine for Wednesday's guest strip.
If, after me plugging it all week still makes you wonder what that big graphic to the right is, please take a few minutes to check out the Kickstarter site and watch the pitch video, and if you're a big fan of Multiplex, please reach for that credit card and make a pledge.
These are not donations! In exchange for your pledge, you'll receive AWESOME! REWARDS! for various pledge levels, including, of course, copies of the print book itself. (Check out the Kickstarter page to see the full list of rewards.)
Thank you so much to those who have gotten me to over $1200 $1500 since just Sunday afternon, but it's still quite a ways to $7500. Even if you can't afford to pledge right now, you can help out by blogging about the Multiplex: Book 1 Club of Awesome, tweeting about it, Digging it — anything to help get the word out.
ALSO: Don't forget that I will be at the Windy City Comic Con this Saturday (9/19/09), at the Third Coast Comics booth and joining Tony Breed (Finn and Charlie are Hitched), John Campbell (Pictures for Sad Children), Justin Pierce (The Nonadventures of Wonderella) and C. Spike Trotman (Templar, AZ) on the "Webcomics 101" panel at 1pm. I'll have a few T-shirts for sale (no shipping costs!) and I'll be giving away free Multiplex buttons and drawing (free!) sketches, so stop by and see me!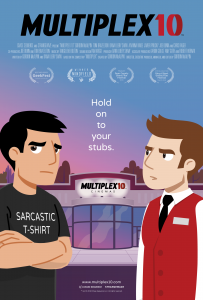 Multiplex 10 is here!
Although Multiplex 10 has ended, an animated prequel/reboot called Multiplex 10 was funded through Kickstarter in 2017 and is NOW AVAILABLE for rent or purchase on Vimeo On Demand, Amazon Video, and elsewhere! And an all-new, irregularly-updated Multiplex 10 web series (set after the short film) recently launched on YouTube! Learn more about the web series on the official Multiplex 10 website!
Stay up to date on all things Multiplex, Multiplex 10 and me (a.k.a. Gordon McAlpin) by subscribing to my newsletter!