Notes from the Manager
Related Strips: #351: Don't Be Crazy; #379: While You Were Gone II: The Wrath of Keith
I played around in Manga Studio Debut for the line art in the two panels here. I kind of like it. I'm not convinced I like it enough to completely stop using a brush (for the rare occasions I do hand-drawn comics), but it's way better than inking in Photoshop, that's for sure.
You know there's T-shirts and stuff available in The Multiplex Store, right? No? Well, there are!
UPDATE (9/1/09): There is a new TopWebComics vote incentive available — a brand-new bonus strip from the upcoming Multiplex: Chapter 2 eBook that fits in-between #35 and 36. The last panel might be a little bit confusing (or anti-climactic) if you read this strip on its own, but the idea is that it leads directly into #36 and #37, so you'll want to read the bonus strip and then those two strips for the full effect.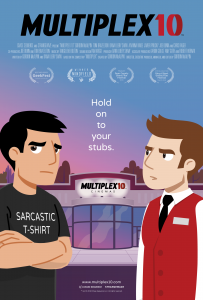 Multiplex 10 is here!
Although Multiplex 10 has ended, an animated prequel/reboot called Multiplex 10 was funded through Kickstarter in 2017 and is NOW AVAILABLE for rent or purchase on Vimeo On Demand, Amazon Video, and elsewhere! And an all-new, irregularly-updated Multiplex 10 web series (set after the short film) recently launched on YouTube! Learn more about the web series on the official Multiplex 10 website!
Stay up to date on all things Multiplex, Multiplex 10 and me (a.k.a. Gordon McAlpin) by subscribing to my newsletter!