Notes from the Manager
The big news today is: Multiplex finally has a merchandise store!
So far, there are just two T-shirt designs (one being the one Jason is wearing in this strip — although there is a design on the back you haven't seen yet) and the Multiplex: Chapter 1 downloadable eBook at its new, lower price.* But it exists, and it will slowly have things added to it. Peruse the shop and buy something, why don't you? (The Multiplex Store accepts both PayPal and credit card orders. If you want to send a check or have any other questions/comments about the store, just drop me a line!)

Thanks to my brother, Lawrence, for helping me get the store site up and running — and also to Jackson Ferrell, my merch guy, as well as the proprietor of This Week in Webcomics.
* If you have already purchased a copy of the Multiplex #1 eBook: HD Edition (not the WOWIO version) drop me a line. I'll give you some coupon codes to "upgrade" to the new version for free and get $1 off the shirts (or any future merchandise). Include the e-mail you used when you purchased the original eBook, so I can verify your previous purchase.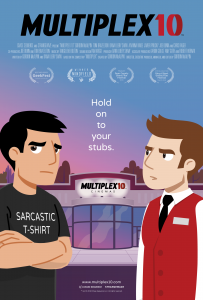 Multiplex 10 is here!
Although Multiplex 10 has ended, an animated prequel/reboot called Multiplex 10 was funded through Kickstarter in 2017 and is NOW AVAILABLE for rent or purchase on Vimeo On Demand, Amazon Video, and elsewhere! And an all-new, irregularly-updated Multiplex 10 web series (set after the short film) recently launched on YouTube! Learn more about the web series on the official Multiplex 10 website!
Stay up to date on all things Multiplex, Multiplex 10 and me (a.k.a. Gordon McAlpin) by subscribing to my newsletter!