Notes from the Manager
Related Strips: #269: Old School, Part Two
The two posters behind Jason are semi-relevant to this strip (one a little bit more than the other). The predominantly black and white poster immediately left of him (Jason's right) is for It Might Get Loud, a documentary featuring Jimmy Page, Edge, and Jack White, jamming and talking about their craft and stuff. It's been at a few festivals, but will have a limited release this August.
The purple poster is for Soul Power and features a mustachioed James Brown. The film is of and about a music festival from 1974 in Zaire (coinciding with the famous match between Muhammad Ali and George Foreman known as the Rumble in the Jungle), with a mix of American and African musicians, including James Brown, B. B. King, Bill Withers, the Crusaders, the Spinners, Miriam Makeba, among many others. (James Brown, B.B. King and the Spinners all played at the Regal in Chicago at some point, earlier in their careers; the Regal was demolished in 1973.) Here is its trailer:
Soul Power is out now in New York and LA, but it should be expanding around the US shortly.
Two other things worth mentioning:
1) This strip marks the debut of a few things drawn by one of my new assistants, Jarrett Quan; namely, some of the largely not-visible cars in the parking lot outside of the theater. Thanks, Jarrett! They look very good up close, too. You can see an enlarged view of panel 1 at TopWebComics and sort of see them (and Devi and James) embiggened for yourself.
2) There is a brand new interview with myself about Multiplex up over at Xcentriz. Go read it!
UPDATE: I've gotten a couple of questions about the capitalization of the world "Black" in panel 6, so I thought I would link to this post in the forum where I explain the rationale behind that.
UPDATE (7/14): Oh, I forgot — Multiplex turned four years old on July 10, making #375 more or less the fourth anniversary strip. (That also means I did roughly 120 strips in the past year — not bad for a "twice weekly" comic!)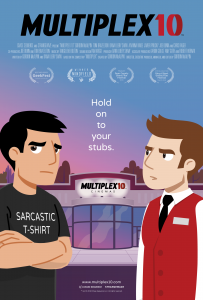 Multiplex 10 is here!
Although Multiplex 10 has ended, an animated prequel/reboot called Multiplex 10 was funded through Kickstarter in 2017 and is NOW AVAILABLE for rent or purchase on Vimeo On Demand, Amazon Video, and elsewhere! And an all-new, irregularly-updated Multiplex 10 web series (set after the short film) recently launched on YouTube! Learn more about the web series on the official Multiplex 10 website!
Stay up to date on all things Multiplex, Multiplex 10 and me (a.k.a. Gordon McAlpin) by subscribing to my newsletter!