Notes from the Manager
Related Strips: #73: Look, Up in the Sky; #148: Summer Sequel; #371: Color Grading; #372: Public Enemy Number One
Note to my projectionist readers: please feel free to e-mail me if I ever have anything explained, drawn or threaded incorrectly, particularly up in booth. Not having worked at a movie theater, I'm always making (educated) guesses about how things look, and the reference I can find on the internet is not always as clear as I need it to be, so I'm constantly relying on you guys to help me keep it real.
You can see a giant-sized, expanded version of panel one as the new TopWebComics vote incentive.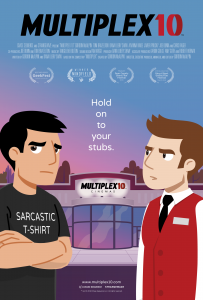 Multiplex 10 is here!
Although Multiplex 10 has ended, an animated prequel/reboot called Multiplex 10 was funded through Kickstarter in 2017 and is NOW AVAILABLE for rent or purchase on Vimeo On Demand, Amazon Video, and elsewhere! And an all-new, irregularly-updated Multiplex 10 web series (set after the short film) recently launched on YouTube! Learn more about the web series on the official Multiplex 10 website!
Stay up to date on all things Multiplex, Multiplex 10 and me (a.k.a. Gordon McAlpin) by subscribing to my newsletter!