Notes from the Manager
Related Strips: #367: I Am a Snob, Not Only in Fact, But on Principle
Well, I almost got through a whole strip without nekkid people.
The poster in Lydia's apartment is for Pierrot Le Fou, a Jean-Luc Godard movie starring Anna Karina (like Vivre Sa Vie, which Jason and her bonded over back in #357). Yes, we've been following Jason and his confused bed-hopping antics for a little while now, but look at it this way: it's only been eleven strips, or just half of a regular-length comic book. It's all very necessary; trust me.
The two movies Jason and Lydia watch in this strip — Ikiru (To Live) and Walkabout — are, indeed, wonderful films. (Your mileage may vary, of course.) Both are available on Criterion Collection DVDs.
Next time (a.k.a. Thursday), we will probably actually be at the Multiplex 10. Because this strip is called Multiplex.
Join Tom Brazelton (Theater Hopper), Joe Dunn (Joe Loves Crappy Movies), and myself (Multiplex, duh) for The Triple Feature live via TalkShoe at 9PM Central, when we'll have a special guest, Trisha Lynn, my Movie Make-out co-blogger, to discuss Year One, Moon, and — briefly — The Movie Make-out/Triple Feature Top Ten (And Then Some) Sci-Fi Movies List. And maybe some other stuff.
Lastly, but not leastly, you can see an enlarged, lettering-free version of panel 1 as the TopWebComics vote incentive, because I was really happy with how the background turned out. (For a background that will probably not get a whole lot of use, I spent an awful lot of time getting the reflection right.)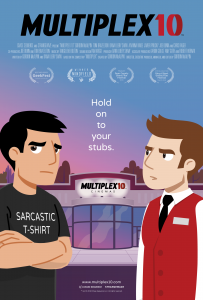 Multiplex 10 is here!
Although Multiplex 10 has ended, an animated prequel/reboot called Multiplex 10 was funded through Kickstarter in 2017 and is NOW AVAILABLE for rent or purchase on Vimeo On Demand, Amazon Video, and elsewhere! And an all-new, irregularly-updated Multiplex 10 web series (set after the short film) recently launched on YouTube! Learn more about the web series on the official Multiplex 10 website!
Stay up to date on all things Multiplex, Multiplex 10 and me (a.k.a. Gordon McAlpin) by subscribing to my newsletter!