Notes from the Manager
Related Strips: #290: The Good Book
So I lied. Here's "Thursday's" strip a bit early, because the strip ended up taking place on Christmas Eve and I wanted the date for the strip to reflect that. I'll probably have one more short one up over the Christmas weekend, as well.
Merry Christmas, if that's your thing. Happy whatever if it's not. Stay warm, stay safe, and I'll see you in a few days.
(The name of this strip is taken from the new Kate Winslet/Ralph Fiennes movie, The Reader, although the content has nothing to do with this. You can check out the trailer over at Apple.)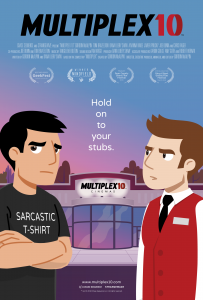 Multiplex 10 is here!
Although Multiplex 10 has ended, an animated prequel/reboot called Multiplex 10 was funded through Kickstarter in 2017 and is NOW AVAILABLE for rent or purchase on Vimeo On Demand, Amazon Video, and elsewhere! And an all-new, irregularly-updated Multiplex 10 web series (set after the short film) recently launched on YouTube! Learn more about the web series on the official Multiplex 10 website!
Stay up to date on all things Multiplex, Multiplex 10 and me (a.k.a. Gordon McAlpin) by subscribing to my newsletter!