Notes from the Manager
Related Strips: #280: Are You Ready for Some Football?
Lest anybody accuse me of putting words into Keith's mouth too asinine to have come from an actual human being, I was actually e-mailed those words almost verbatim from one of the readers coming into the strip for the first time from a relatively huge StumbleUpon spike. (Give #280 another review if you want to help spur it along! Positive or negative, they both send more readers my way. Which is why I think it's hilarious when people leave negative reviews.)
I think there will be three strips this week again, even though I'm trying to work back into the twice-a-week rhythm so I can work on the print collection more. If you prefer to read a new Multiplex three times a week, spread the word! Thumbs-up Multiplex at StumbleUpon, vote at TopWebComics, post links on Facebook or MySpace using the ShareThis button in the sidebar, write a review or interview me for your website or magazine — it all helps.
I'm making a good amount of money from Multiplex every month, but I'm still a ways off from being able to quit my day job and just work on comics full-time.
UPDATE: Check out a new interview with me over at Jackson Ferrell's This Week in Webcomics, in which we talk about Multiplex getting animated (someday, maybe, hopefully), the racially diverse cast, everybody's favorite supporting character Angie, and some other things.
UPDATE (9/17): I am a liar. This week's second update is pretty complicated, and I hope to get it all finished for Thursday, but that may not be possible: panel-wise, it's equivalent to about three normal-length strips.
If you're impatient, you can see the first 1/3 or so of it at TopWebComics. Otherwise, hang in there 'til Thursday, when — hopefully — the whole thing will be posted. Worst case scenario, I'll get the second 2/3 of it up as another vote incentive and post the rest of it on Friday.
When you see the whole thing, you'll probably understand why I didn't want to "officially" break it up into three separate strips. It changes the flow of the whole thing.
UPDATE (9/18): I've been afflicted with some bizarro mysterious (but mild) illness recently, so my productivity has shot downhill a bit. I have a doctor's appointment this morning to see what's wrong with my head this week, but #282 will be posted in its entirety tomorrow.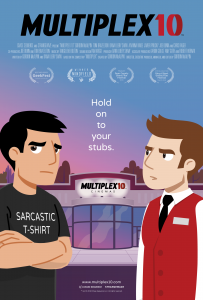 Multiplex 10 is here!
Although Multiplex 10 has ended, an animated prequel/reboot called Multiplex 10 was funded through Kickstarter in 2017 and is NOW AVAILABLE for rent or purchase on Vimeo On Demand, Amazon Video, and elsewhere! And an all-new, irregularly-updated Multiplex 10 web series (set after the short film) recently launched on YouTube! Learn more about the web series on the official Multiplex 10 website!
Stay up to date on all things Multiplex, Multiplex 10 and me (a.k.a. Gordon McAlpin) by subscribing to my newsletter!