#267: Secret Heart
August 11, 2008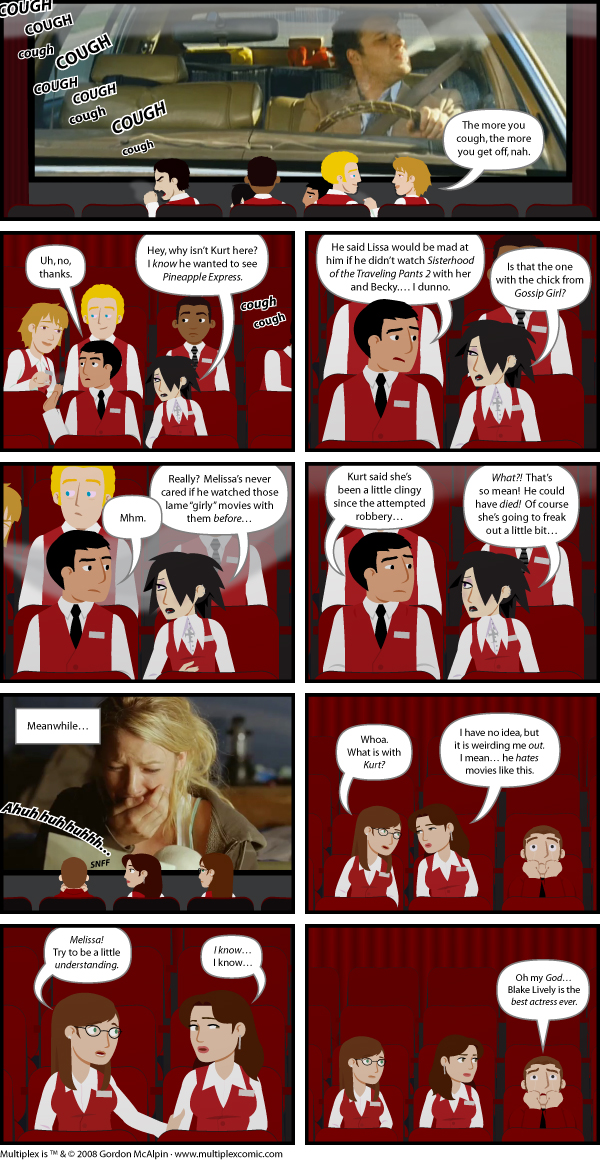 Notes from the Manager
Related Strips: #3: Girl Power; #84: Leaving on a Jet Plane; #89: More Than You Think; #265: A Poster Is a Poster Is a Poster
It's officially August in the Multiplex-verse now, so I've added the August Multiplex Examiner (previously a TopWebCmoics vote incentive) to link off of this page. The new TopWebComics incentive is an embiggened version of panel 1 from this strip.
Now that Multiplex and WOWIO have parted companies, you can now read the first (and only, so far) Multiplex eBook for FREE. You can read it online in your web browser thanks to Issuu. You can even read it full-screen! No registration, no downloads, no hassles — just comics. Essentially, it's just a different (better, in my opinion) way of reading through the first 24 strips from the archives, and with added material as well.
You cannot download the free Online Edition, but the High Definition Edition is still available for purchase, for those hardcore fans who want the highest-quality reproduction possible.
[NOTE: The Online Edition has since been moved here. You can download the HD PDF at the Multiplex Store.]
UPDATE: Live in Chicago? Want to see Don Cheadle's Traitor early? HollywoodChicago is giving away tickets!
A FRIEND IN NEED: My fellow cartoonist and Triple Feature MC Tom Brazelton (of Theater Hopper fame, of course) is in dire need of a bit of help after a massive hard drive failure has potentially wiped out five years of comics. If you've got a few bucks to spare and don't want the baby Jesus to cry, please go help a brother out. (Details about the circumstances and how to help out behind the link.)
Become a Multiplex patron
Multiplex is supported by Andrew Hathaway at Can't Stop the Movies, A Fan of Coherence, and readers like you via PATREON. Help keep the Multiplex 10 open for business by becoming a patron today!
Patron rewards include:
Free eBooks!
Multiplex Movie Reviews and other bonus comics
Character doodles!
Invites to Google Hangouts!
Sneak peeks at early and in-progress strips and artwork!
and MORE!
Deleted Scenes Blog
Bonus comics, drawings,
movie trailers and more
Sunday, March 29, 2015
I want to take a foray into electronic publishing.
I am looking for a (prose) writer to provide a short story, novella or non-fiction story that I will turn into an iBooks-formatted eBook for sale (in the iBookstore), released under my Chase Sequence publishing imprint. Chase Sequence published Multiplex: There and Back Again, which won the 2014 IPBA Gold Medal for Best Graphic Novel/Drawn Book–Humor/Cartoon, so technically it is an award-winning publisher.
There is no limitation with regard to genre, but I will say that my taste in prose leans strongly toward literary fiction and non-fiction, and toward characters, psychology, and well-written prose over plot. (Margaret Atwood is my favorite writer.)
What to Submit: A pitch for a 30+ page, prose short story/novella/non-fiction piece. No comics — no picture books. If you have already written the short story, great, but it must be previously unpublished. Please include links or URLs to a resumé and examples of previous published work would be helpful, to give me a feel for your voice.
Send questions (or submissions) to gordon at multiplexcomic.com.
The Terms: No money up front, but 50% of the cover price in exchange for one year of exclusivity (from the date of publication). The writer retains all other rights to their story. These will be sold via iBooks only (at least at first), which means that Apple will get 30% and I will get 20% for my contributions: I will edit the story; I will design and produce the eBook; I will illustrate a cover for it (or hire someone else to, if I'm not the best fit for the story); I will help promote it.
Please submit your pitch before April 30, 2015. I will notify the selected writer(s) I am interested in working with as soon as possible after that.
Other Recent Posts