SPOILER WARNING: This strip contains a minor spoiler for the new Indiana Jones movie.
#238: Daddy Issues All Over Again
May 29, 2008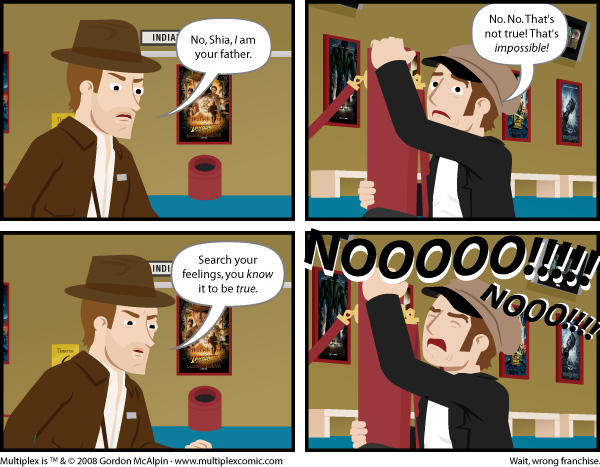 Notes from the Manager
Same spoiler as in the strip (highlight to read): I guess on the bright side, "Mutt" Williams (a.k.a. Henry Jones III, a.k.a. Shia LaBeouf) has a better relationship with his father than Luke Skywalker.
Donation Links: Help support the strip via PayPal or Dwolla — or buy something from The Multiplex Store!
Deleted Scenes Blog
Bonus comics, drawings,
movie trailers and more
Thursday, December 5, 2013
They're showing all kinds of too much in this teaser trailer, I think, but it looks pretty great… despite the stupid character designs on the villains. (I was one of those people who enjoyed Marc Webb's first Spider-Man flick quite a bit; the major clunky parts being where they seemed to think they needed to change up Uncle Ben's death and other bits of canon, just to make it different from Raimi's version.)
Bonus points: this is the best Spidey's costume has ever looked in film. I hope Sony never changes the suit again (unless they do the black costume for a movie or two).
Amazing Spider-Man 2 hits theaters on May 2, 2014.
Other Recent Posts