SPOILER WARNING: This strip contains a minor spoiler for the new Indiana Jones movie.
#238: Daddy Issues All Over Again
May 29, 2008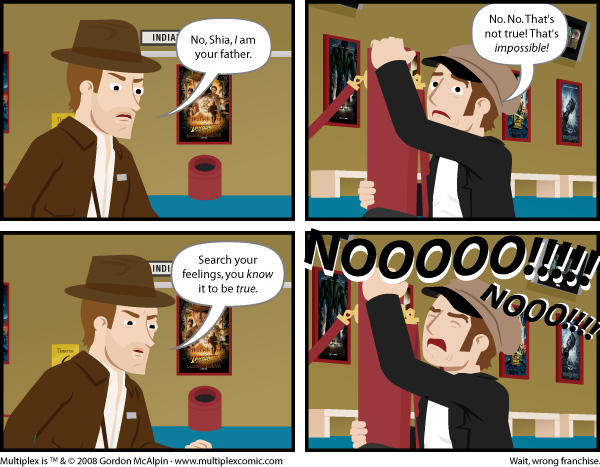 Notes from the Manager
Same spoiler as in the strip (highlight to read): I guess on the bright side, "Mutt" Williams (a.k.a. Henry Jones III, a.k.a. Shia LaBeouf) has a better relationship with his father than Luke Skywalker.
Help support Multiplex!
Multiplex is ad-free because of Andrew Hathaway at Can't Stop the Movies and readers like you via Patreon.
Patron rewards include free Multiplex eBooks, bonus comics, "behind the scenes" art, sketches, and more!
You can also support Multiplex by buying Multiplex merch from the Multiplex Store, shopping at Amazon with this affiliate link (US only; for international readers: United Kingdom and Canada), or making a one-time donation via PayPal or Dwolla!
Deleted Scenes Blog
Bonus comics, drawings,
movie trailers and more
Tuesday, August 4, 2015
See you TOMORROW! It will be a regular update (so: #1045).
Other Recent Posts