#216: Back Where You Belong
March 20, 2008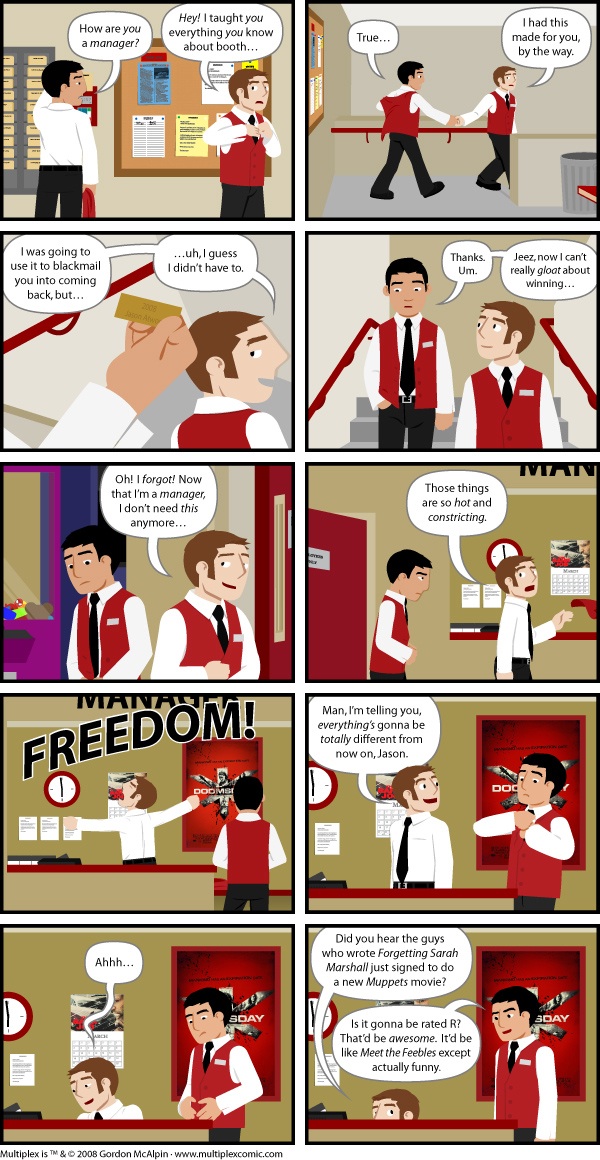 Notes from the Manager
Okay. If you don't know what Forgetting Sarah Marshall is, check out trailer here:
If you don't know what Peter Jackson's Meet the Feebles is, watch the beginning over at YouTube.
(If you actually think that movie is funny… I disagree.)
If you don't get the real joke (sort of) in the strip — last three panels, really — then you need to read through the archives. (And that's not even all of them.)
And, finally, if you think the title is a .38 Special reference, you're right.
Whew.
Become a Multiplex patron
Multiplex is supported by Andrew Hathaway at Can't Stop the Movies, A Fan of Coherence, and readers like you via PATREON. Help keep the Multiplex 10 open for business by becoming a patron today!
Patron rewards include:
Free eBooks!
Multiplex Movie Reviews and other bonus comics
Character doodles!
Invites to Google Hangouts!
Sneak peeks at early and in-progress strips and artwork!
and MORE!
Deleted Scenes Blog
Bonus comics, drawings,
movie trailers and more
Sunday, March 1, 2015
I was never a huge Star Trek fan, exactly. I love some of the early episodes, and I think Star Trek II: The Wrath of Khan is one of the greatest science fiction movies of all time. I enjoyed Star Trek III and IV, too, for what they were. I read a bunch of the DC Comics Star Trek stuff at that time, because my brother bought them. And I watched a bit of the Next Generation and then fell off the wagon. Kirk and Spock were my Star Trek, and the Star Trek 2–4 "era" was its peak for me, warts and all, because that's the "era" that really hooked me. And really, for me, it was all about Wrath of Khan.
In addition to playing Mr. Spock, of course, Leonard Nimoy did a lot of other things. He was on Mission: Impossible. He directed a few movies (Three Men and a Baby!). He was a photographer. He was the voice of Civilization IV. But one thing I really loved of his was Standby: Lights, Camera, Action, on Nickelodeon from 1982–1987, which provided a behind the scenes look at movies like Star Trek III, Return of the Jedi, 2010, and more. Nimoy hosted and occasionally interviewed guests like George Lucas. As a budding film nerd in the pre-Internet Dark Ages, behind the scenes specials like Standby: Lights, Camera, Action were hard to come by. I ate that show up.
Anyway, as you're undoubtedly aware by now, Leonard Nimoy passed away on the 27th. As cartoonists do when they're sad about these kinds of things, I drew a picture:
Other Recent Posts