#216: Back Where You Belong
March 20, 2008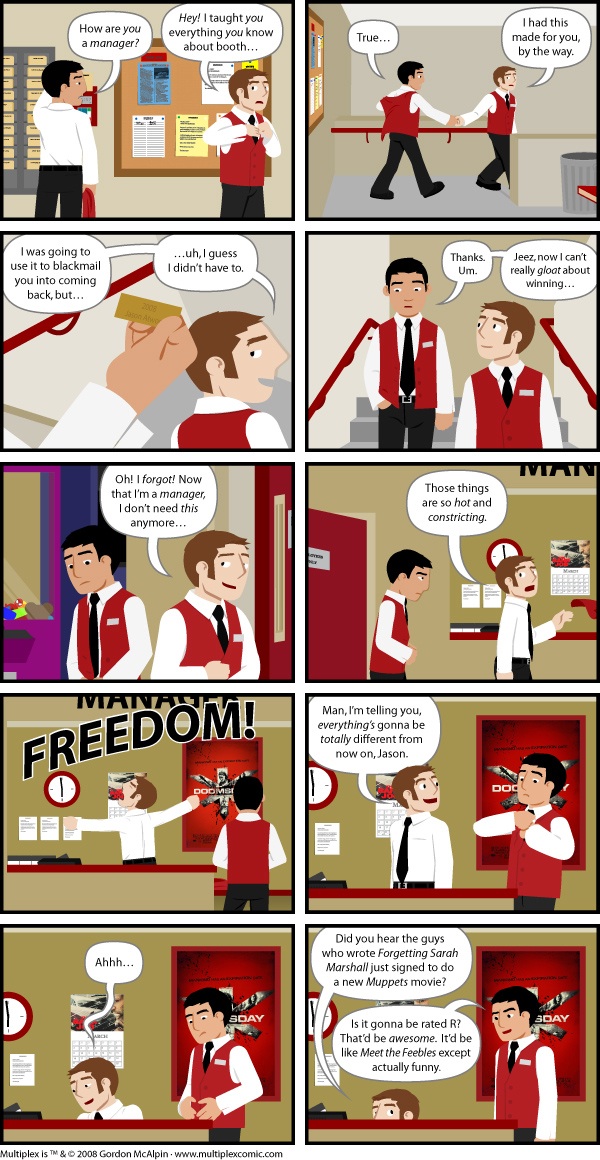 Notes from the Manager
Okay. If you don't know what Forgetting Sarah Marshall is, check out trailer here:
If you don't know what Peter Jackson's Meet the Feebles is, watch the beginning over at YouTube.
(If you actually think that movie is funny… I disagree.)
If you don't get the real joke (sort of) in the strip — last three panels, really — then you need to read through the archives. (And that's not even all of them.)
And, finally, if you think the title is a .38 Special reference, you're right.
Whew.
Become a Multiplex patron
Multiplex is supported by Andrew Hathaway at Can't Stop the Movies and readers like you via PATREON. Help keep the Multiplex 10 open for business by becoming a patron today!
Patron rewards include:
Free eBooks!
Multiplex Movie Reviews and other bonus comics
Character doodles!
Invites to Google Hangouts!
Sneak peeks at early and in-progress strips and artwork!
and MORE!
Deleted Scenes Blog
Bonus comics, drawings,
movie trailers and more
Friday, August 15, 2014
There's no telling how the film will turn out, but the trailer for The Theory of Everything impressed me by having a respectably balanced focus on both the life of Stephen Hawking (and relationship with his first wife) and the work he is so admired for, unlike so many other film biographies of so-called Great Men.
James Marsh (Man on Wire) directs Eddie Redmayne and Felicity Jones in the November 7th release.
Other Recent Posts