#216: Back Where You Belong
March 20, 2008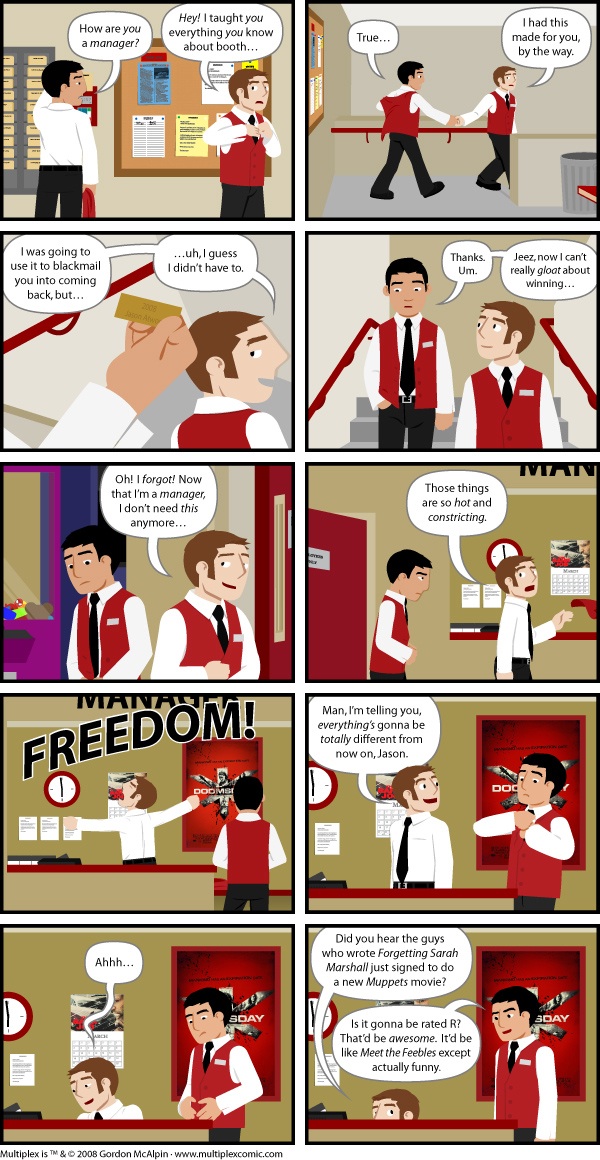 Notes from the Manager
Okay. If you don't know what Forgetting Sarah Marshall is, check out trailer here:
If you don't know what Peter Jackson's Meet the Feebles is, watch the beginning over at YouTube.
(If you actually think that movie is funny… I disagree.)
If you don't get the real joke (sort of) in the strip — last three panels, really — then you need to read through the archives. (And that's not even all of them.)
And, finally, if you think the title is a .38 Special reference, you're right.
Whew.
Help support Multiplex!
Multiplex is ad-free because of Andrew Hathaway at Can't Stop the Movies and readers like you via Patreon.
Patron rewards include free Multiplex eBooks, bonus comics, "behind the scenes" art, sketches, and more!
You can also support Multiplex by buying Multiplex merch from the Multiplex Store, shopping at Amazon with this affiliate link (US only; for international readers: United Kingdom and Canada), or making a one-time donation via PayPal or Dwolla!
Deleted Scenes Blog
Bonus comics, drawings,
movie trailers and more
Wednesday, July 29, 2015
I announced a set of Milestone Goals yesterday, for new Multiplex Movie Review comics with Jason taking on a selection of Michael Bay's greatest hits. We met the first one, and so here it is!
The next Milestone Goal is for reaching $22,000 before MIDNIGHT TONIGHT (Wednesday, July 29) — and right now, we're a mere $359 324 309 away from that! It is for two review strips: one for Bad Boys and another for Bad Boys II. I didn't realize you can't rent/stream Bad Boys II anywhere, so I'll have to figure out where to see that later — assuming we make the goal — but if we do, I'll post the review comic for Bad Boys tomorrow!
(I'm not sure there would be enough hours in the day to do both of them and Friday's comic, anyway.)
Other Recent Posts