#216: Back Where You Belong
March 20, 2008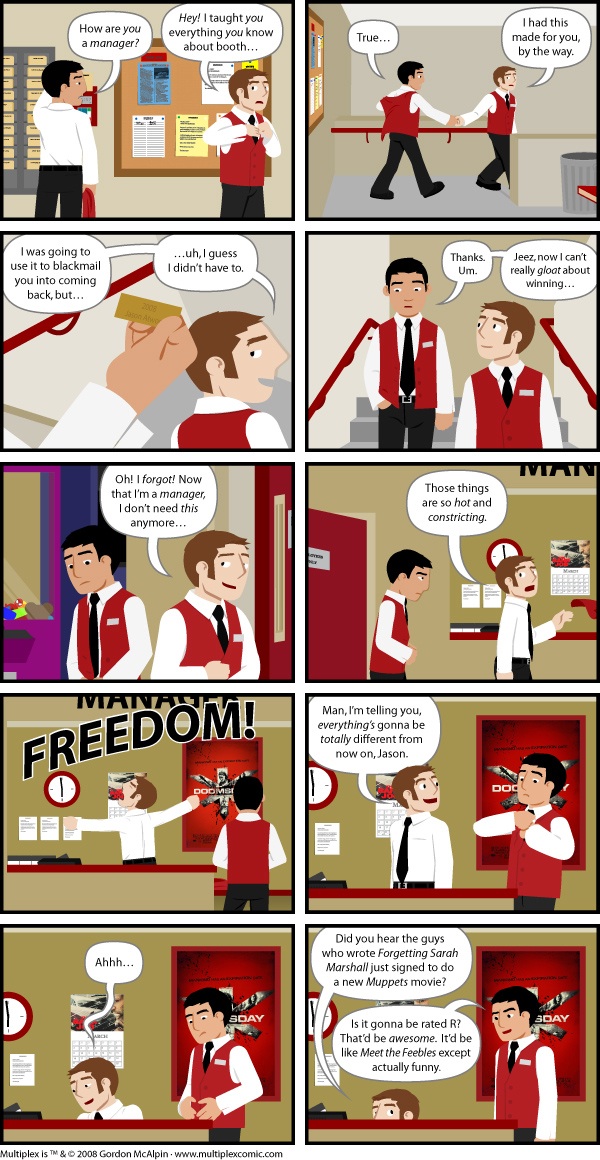 Notes from the Manager
Okay. If you don't know what Forgetting Sarah Marshall is, check out trailer here:
If you don't know what Peter Jackson's Meet the Feebles is, watch the beginning over at YouTube.
(If you actually think that movie is funny… I disagree.)
If you don't get the real joke (sort of) in the strip — last three panels, really — then you need to read through the archives. (And that's not even all of them.)
And, finally, if you think the title is a .38 Special reference, you're right.
Whew.
How much Multiplex can you handle?!
Multiplex is made possible by Andrew Hathaway at Can't Stop the Movies and readers like you via Patreon, who contribute over $600 per month to keep Multiplex updating and ad-free.
In addition to the warm, soothing feeling of being a patron of the fine art of comic strippery, Patrons get access to free Multiplex eBooks, sneak previews of upcoming comics and other behind the scenes peeks, sketch giveaways, and more!
You can also support Multiplex by shopping at the Multiplex store — or at Amazon via these affiliate links: United States | United Kingdom | Canada
Deleted Scenes Blog
Bonus comics, drawings,
movie trailers and more
Thursday, April 14, 2016
It's only been a couple of months since I said goodbye to Punk and today my fiancée Karyn and I had to say goodbye to her cat Sydney. Like Punk, she was eighteen years old and had multiple long-term health issues.
I only knew her for the last eight of her years, and although we had a contentious start, and she never got along with Punk, we grew to have a special bond. In the last few months, she would sit on me as I slept and be the first thing I saw almost every morning. She was a very sweet, ridiculously affectionate cat, and we will both miss her.
Multiplex is taking a very short break. I'll see you here Monday.
Other Recent Posts