Notes from the Manager
As you could probably guess, this story arc is pretty much done. There is one final part coming on Thursday, although it's really more of an epilogue to this arc than anything.
By the way, the Michael Clayton reference in panel 2 may seem totally random if you haven't seen the movie. Explaining it would spoil something in the movie, so you'll just have to see it, won't you?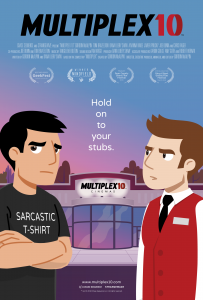 Multiplex 10 is here!
Although Multiplex 10 has ended, an animated prequel/reboot called Multiplex 10 was funded through Kickstarter in 2017 and is NOW AVAILABLE for rent or purchase on Vimeo On Demand, Amazon Video, and elsewhere! And an all-new, irregularly-updated Multiplex 10 web series (set after the short film) recently launched on YouTube! Learn more about the web series on the official Multiplex 10 website!
Stay up to date on all things Multiplex, Multiplex 10 and me (a.k.a. Gordon McAlpin) by subscribing to my newsletter!