Notes from the Manager
The gang is in the middle of watching Grindhouse, for those of you who aren't in the know. There are a few fake trailers between the two features -- Robert Rodriguez's Planet Terror and Quentin Tarantino's Death Proof (which are both well worth seeing, in spite of a few quibbles I have with each) -- and the one referenced in this strip, Eli Roth's fake Thanksgiving trailer, is fucking appalling. If you really want to see what the gang is looking at in panel 2, you can watch it below, but really, your life will be a much happier one without ever seeing it:
Oh, and the lack of a real punch line in this strip (as well as the "to be continued") means that, yes, we're gearing up for a strip or two of Teen Drama! So come back on Thursday.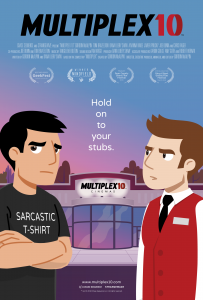 Multiplex 10 is here!
Although Multiplex 10 has ended, an animated prequel/reboot called Multiplex 10 was funded through Kickstarter in 2017 and is NOW AVAILABLE for rent or purchase on Vimeo On Demand, Amazon Video, and elsewhere! And an all-new, irregularly-updated Multiplex 10 web series (set after the short film) recently launched on YouTube! Learn more about the web series on the official Multiplex 10 website!
Stay up to date on all things Multiplex, Multiplex 10 and me (a.k.a. Gordon McAlpin) by subscribing to my newsletter!