Notes from the Manager
Related Strips: #1129: The Long and Short of It, Part One; #1130: The Long and Short of It, Part Two; #1131: The Long and Short of It, Part Three
This will probably be Evelyn's last appearance… but Randall isn't done at the Multiplex 10 yet. See you Friday!
I'm not sure anything Evelyn says really needs translation, but I'll save you the Google fu:
"Hijo de la gran puta" = Son of the biggest whore
"jódia vieja" = fucking old woman
"jódete" = fuck you
"so cabrón" = you asshole/bastard
"Vete pa'l carajo" = go fuck yourself (literally: go to fuck)
"mama bicho" = cocksucker
(I've updated these a couple of times from earlier today, because Evelyn is Puerto Rican, and apparently their swear words are very different. Thanks for the assist, Miguel S.!)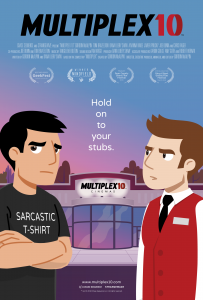 Multiplex 10 is here!
Although Multiplex 10 has ended, an animated prequel/reboot called Multiplex 10 was funded through Kickstarter in 2017 and is NOW AVAILABLE for rent or purchase on Vimeo On Demand, Amazon Video, and elsewhere! And an all-new, irregularly-updated Multiplex 10 web series (set after the short film) recently launched on YouTube! Learn more about the web series on the official Multiplex 10 website!
Stay up to date on all things Multiplex, Multiplex 10 and me (a.k.a. Gordon McAlpin) by subscribing to my newsletter!