Notes from the Manager
Related Strips: #1114: The Numbers Game; #1115: Covert Action; #1116: For Real This Time; #1117: If We Stand Together, We Win
Like the strip suggests, in a huge number of industries, the use of a "supervisor" title (or classification) has been used as a way to disqualify workers from union membership and some protections guaranteed to workers/employees under the National Labor Relations Act.
For some further reading, check out "Supervisor in name only" by the Economic Policy Institute — but note that the Bush-era NLRB decision it discusses was subsequential appealed and tossed out. Still, whether or not certain workers are legitimately classified as supervisors or not comes up a lot when employees lean on NLRA protections for concerted activity or joining/organizing unions.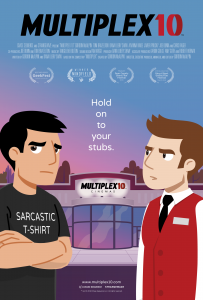 Multiplex 10 is here!
Although Multiplex 10 has ended, an animated prequel/reboot called Multiplex 10 was funded through Kickstarter in 2017 and is NOW AVAILABLE for rent or purchase on Vimeo On Demand, Amazon Video, and elsewhere! And an all-new, irregularly-updated Multiplex 10 web series (set after the short film) recently launched on YouTube! Learn more about the web series on the official Multiplex 10 website!
Stay up to date on all things Multiplex, Multiplex 10 and me (a.k.a. Gordon McAlpin) by subscribing to my newsletter!