Notes from the Manager
Related Strips: #1083: Respect My Authoritah!; #1108: Clearing Things Up; #1109: Tattle-tale
The point Amy is bringing up is actually unclear (maybe). The law in Illinois doesn't say workers can't waive their break until later. It also doesn't say that they can; it doesn't mention waiving your break at all. As Kurt points out, the odds of anyone getting in trouble for asking people to volunteer to take their break later (and still getting paid for it) seems rather small… but she's sort of right in that Jason and Kurt were not complying with the letter of the law, either.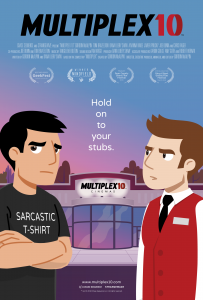 Multiplex 10 is here!
Although Multiplex 10 has ended, an animated prequel/reboot called Multiplex 10 was funded through Kickstarter in 2017 and is NOW AVAILABLE for rent or purchase on Vimeo On Demand, Amazon Video, and elsewhere! And an all-new, irregularly-updated Multiplex 10 web series (set after the short film) recently launched on YouTube! Learn more about the web series on the official Multiplex 10 website!
Stay up to date on all things Multiplex, Multiplex 10 and me (a.k.a. Gordon McAlpin) by subscribing to my newsletter!