Notes from the Manager
Related Strips: #1053: Top Secret!; #1054: Horrible Bosses; #1056: Future Fear; #1057: Time Is on My Side
Short one this time… To be continued on Friday!
I have the large freelance project done, so work on Multiplex: The Revenge (Book Three) will commence next week (possibly sooner)! Thank you for your patience, particularly you Patreon backers who have been waiting in relative silence for the last couple of months. New stuff's coming!
As things turned out, I needed to push my completion date for the MFA into this semester, but my thesis project is basically finished; I do have an assistantship starting up now and running through the semester, so work will be a little slower than expected. It's a small one, though; at this time, I don't expect any of this to affect the September (2016) publication date for the book.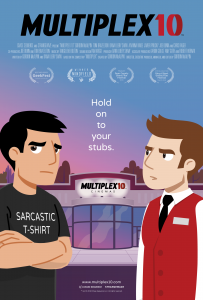 Multiplex 10 is here!
Although Multiplex 10 has ended, an animated prequel/reboot called Multiplex 10 was funded through Kickstarter in 2017 and is NOW AVAILABLE for rent or purchase on Vimeo On Demand, Amazon Video, and elsewhere! And an all-new, irregularly-updated Multiplex 10 web series (set after the short film) recently launched on YouTube! Learn more about the web series on the official Multiplex 10 website!
Stay up to date on all things Multiplex, Multiplex 10 and me (a.k.a. Gordon McAlpin) by subscribing to my newsletter!