Notes from the Manager
Related Strips: #886: The Miner
It's been a while since Franklin's computer game got mentioned. (If we get to the Book Seven or Eight collected editions, I'd like to add a little more about that.) Jump back to #886 (the Related Strip) in case you're fuzzy on how Franklin is able to front Red two grand.
Anyway. Sorry for the late strip, but I promised to get the Bad Boys movie review comic up yesterday and some things came up, so I needed to finish the strip this morning.
GOOD NEWS, though! The Multiplex: The Revenge Kickstarter project passed its funding goal yesterday — meaning it also unlocked the Multiplex movie review comics for all four Michael Bay Transformers movies. I've got to watch those abominations (after Bad Boys II) but the rest of those will get posted over the next two weeks.
The funding period is still open until TONIGHT (Friday, July 31) at 9PM Central, so you can still get in on the last minute!
Thank you so much to everyone who pledged, everyone who shared tweets or Facebook posts or e-mails about the strip or the Kickstarter project, and… (I feel like a broken record every time I say this) thank you for reading.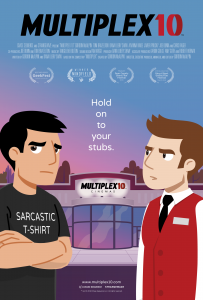 Multiplex 10 is here!
Although Multiplex 10 has ended, an animated prequel/reboot called Multiplex 10 was funded through Kickstarter in 2017 and is NOW AVAILABLE for rent or purchase on Vimeo On Demand, Amazon Video, and elsewhere! And an all-new, irregularly-updated Multiplex 10 web series (set after the short film) recently launched on YouTube! Learn more about the web series on the official Multiplex 10 website!
Stay up to date on all things Multiplex, Multiplex 10 and me (a.k.a. Gordon McAlpin) by subscribing to my newsletter!