Notes from the Manager
Related Strips: #1022: Team Players
There will be three strips this week! (I think this extra update makes me officially caught up from my two week pause earlier in the summer.)
There are nine days left on the Multiplex: The Revenge Kickstarter, with nearly 43% of the goal remaining (as I write this). The first two days were absolutely astonishing, but new pledges have slowed down greatly in the weeks since. At the current rate for new pledges, we will fall short of the funding goal by a few thousand dollars, and the book series won't be able to continue!
I realize the goal is higher than for Book Two, but with the huge jump in printing costs since Book Two was printed just two years ago, this was unavoidable. The budget is somewhat conservative, too, so it's possible that I can produce and ship the book (and all the rewards) under budget, and if so, any surplus funds will go toward the production of Book Four, reducing the amount I'll need to raise for that book. All funds raised by the Kickstarter project will go to the book series.
It's certainly possible that Multiplex's following simply isn't large enough to support a print book series — but I hope this isn't the case, and I hope that if you haven't already, you'll consider helping support the book series, directly (by pledging) or indirectly (telling your friends about the strip and/or the Kickstarter project).
Remember, the print books aren't just collections of old material: they're more Multiplex — and Book Three has roughly 35 pages of new comics! The print books mean that I can meet you at comic book conventions (after I finish grad school). And they mean I'll be able to keep producing more Multiplex even after the webcomic ends.
Multiplex News & Updates
Bonus comics, drawings, and
other awesome stuff
Saturday, July 1, 2017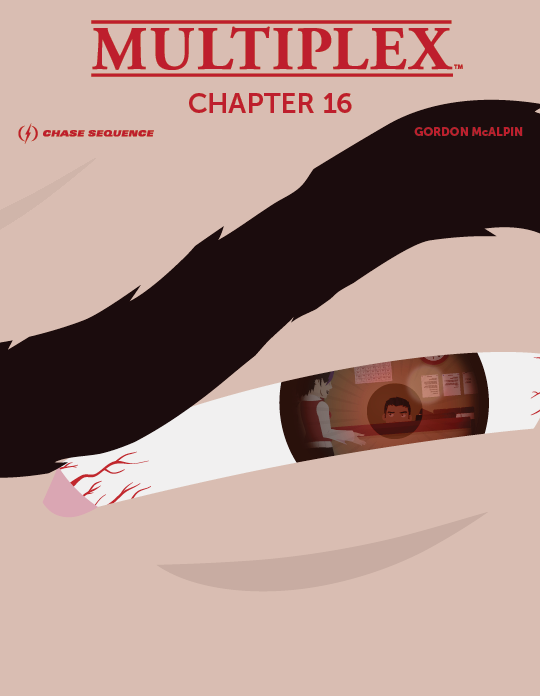 $3+ Patreon supporters get this one for free (until the next eBook is available), but for the rest of youse: The Multiplex: Chapter 16 eBook is now available!
Chapter 16 collects strips #339 –362 from the Multiplex archives, plus four bonus comics and one "extended scene" not found in the archives! Chapter 16 costs $1.99.
Supporting the Multiplex chapter eBooks helps make future Multiplex print collections possible. Thank you for your support!
Other Recent Posts