Notes from the Manager
In case you didn't stop by earlier this week, there will be three strips this week because this and the last one were so easy to draw. (I sort of miss these kinds of strips, but when I'm tied up with a storyline, they can feel a bit incongruous.)
Anyway. Most of this stuff Jason mentions is well-known, but Daredevil's official season two renewal, the Mockingbird and Hunter-focused spin-off of Agents of SHIELD and the possible third show by John Ridley are all recent news. In fact, I posted this earlier than I had planned because I got tired of updating the dialogue to reflect new announcements. (Jason doesn't mention Agent Carter, because that show is almost certainly not coming back for a second season. And let's not get pedantic about whether those shows count as superhero shows; they're in the MCU, so they count as much as Guardians of the Galaxy and Thor do.)
Between Daredevil going live on Netflix, the Ant-Man trailer, the Batman v Superman trailer, and the Fantastic Four trailer — not to mention all the usual TV shows and (obviously non-superhero but geek friendly) Star Wars: The Force Awakens trailer and Rogue One news, the last couple of weeks have been pretty busy for nerds. Everybody's gonna have a different opinion about all of it, of course. Me, I loved Daredevil, am excited for Ant-Man, I'm skeptical of BvS (too "grim and gritty" for me — I was a '90s kid; I'm over that), and I'm cautiously optimistic about Fantastic Four.
Obviously there are no comments here on the site, but head over to the Facebook page if you'd like to chat it up about this stuff!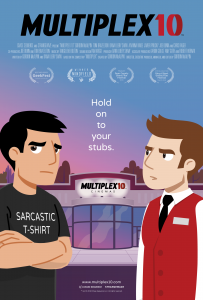 Multiplex 10 is here!
Although Multiplex 10 has ended, an animated prequel/reboot called Multiplex 10 was funded through Kickstarter in 2017 and is NOW AVAILABLE for rent or purchase on Vimeo On Demand, Amazon Video, and elsewhere! And an all-new, irregularly-updated Multiplex 10 web series (set after the short film) recently launched on YouTube! Learn more about the web series on the official Multiplex 10 website!
Stay up to date on all things Multiplex, Multiplex 10 and me (a.k.a. Gordon McAlpin) by subscribing to my newsletter!