Notes from the Manager
In The Wizard of Oz, the lyrics "Wake up, sleepy head, rub your eyes, get out of bed" don't really make sense, because they're sung by the Munchkins as they're just marching around in a stupid circle.
For that matter, when there are Wicked Witches of the East, West and South, when someone asks "Which old witch?" replying "the Wicked Witch" is probably the stupided possible answer.
Munchkins are idiots.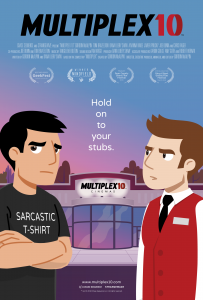 Multiplex 10 is here!
Although Multiplex 10 has ended, an animated prequel/reboot called Multiplex 10 was funded through Kickstarter in 2017 and is NOW AVAILABLE for rent or purchase on Vimeo On Demand, Amazon Video, and elsewhere! And an all-new, irregularly-updated Multiplex 10 web series (set after the short film) recently launched on YouTube! Learn more about the web series on the official Multiplex 10 website!
Stay up to date on all things Multiplex, Multiplex 10 and me (a.k.a. Gordon McAlpin) by subscribing to my newsletter!